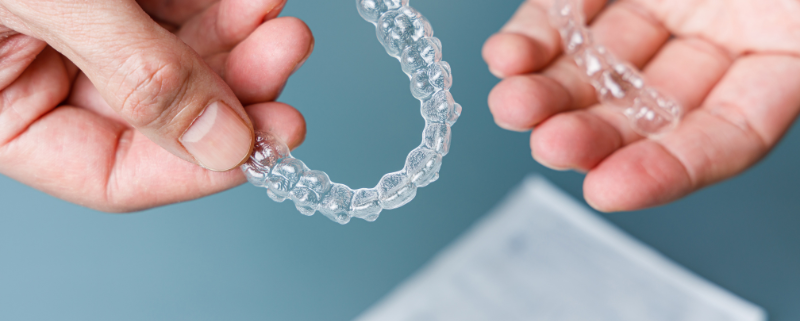 Teeth Shaving For Invisalign Treatment – Everything You Need to Know
If you wish to get a perfectly shaped smile but don't want to go through the pain of metal brackets and wires, Invisalign is the solution for you. Invisalign helps align your misshaped, crooked teeth while being aesthetically pleasing.
However, Invisalign may be hard to fit if you have crowded teeth. In this case, your orthodontist may decide to shave your teeth. Teeth shaving is usually a safe procedure and doesn't present any risks. If your teeth need contouring and realigning, teeth shaving for Invisalign is the correct treatment.
If you should go for shaving teeth for Invisalign, then you are in the right place. This blog will take you through everything you need to know about teeth shaving:
How is it done for Invisalign
Why teeth shaving for Invisalign is vital
Possible risks
Alternatives to teeth shaving
Let's dive in.
What Is Teeth Shaving?
Teeth shaving is a cosmetic dental procedure to remove small amounts of enamel to reshape and contour the teeth. It helps correct minor dental imperfections such as small chips, overlaps, and irregularly shaped teeth.
Sometimes, teeth shaving is used as an alternative to permanent tooth removal. The amount of enamel removed varies for each patient. Your orthodontist will determine the precise amount based on your dental situation and oral health.
Teeth Shaving For Invisalign
Teeth shaving isn't always necessary for Invisalign treatment. But it can help with crowded teeth and eliminate the need for tooth extraction. Advanced Invisalign tech makes starting treatment before teeth shaving with staging is easy. It reduces the risk of inadvertently reducing neighboring teeth. Moreover, teeth shaving with Invisalign helps reach the teeth without contacting others. Also, you can build a smooth surface that helps maintain teeth straightness even after the treatment's over.
Types Of Teeth Shaving
There are two main types of teeth-shaving procedures:
Enameloplasty: This involves the removal of small amounts of tooth enamel to reshape and contour the teeth. It is often used to correct minor cosmetic imperfections.
Interproximal Reduction (IPR): It involves removing tooth enamel from the sides of the teeth to create space between them. Invisalign mostly uses this method to create space for crowded teeth to align properly.
Benefits And Risks Of Teeth Shaving
As mentioned above, teeth shaving is a great way to create space and align your teeth. This painless procedure can be completed in a single dental visit. It helps Invisalign fits properly by reducing overcrowding.
However, removing enamel can increase tooth sensitivity, particularly to hot and cold temperatures. It can weaken the tooth and increase the risk of tooth decay. Most importantly, teeth shaving is an irreversible procedure. Worse, it can also result in the unintentional removal of neighboring teeth.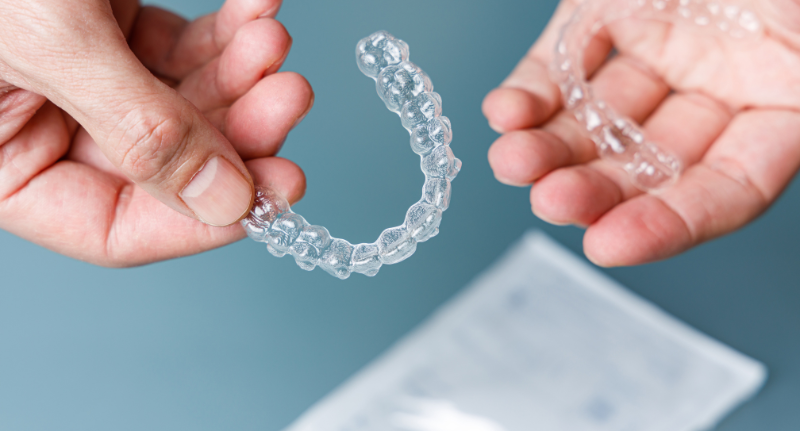 Why Is Shaving Teeth For Invisalign Necessary?
Teeth shaving is a flexible process and depends on your Invisalign alignment goals. It may be done during the first set of trays or before refinements. Besides, refinement aligners help cure unresponsive teeth, ensuring they are on track. This process is crucial to ensure that the teeth can move into their correct positions without damaging the neighboring teeth.
Purpose And Benefits Of Shaving Teeth For Invisalign
Following a thorough examination of your teeth, jaw, and dental X-rays, an orthodontist will determine if your teeth need reshaping or filing before applying Invisalign. Several factors may play a role here.
Although a tiny chip in your tooth doesn't appear typical, it is still noticeable every time you look in the mirror. Via teeth shaving, you can give a uniform edge to your tooth, enhancing your smile.
A small jaw or large teeth that are closely crowded can lead to various issues. It can be jaw pain, misalignment, crooked teeth, etc. Filing down some teeth can help eliminate the problem and create enough space to reduce crowding and alleviate related problems.
Generally, before applying the crown, the dentist must prepare the tooth by trimming it. Even if the tooth is trimmed, the crown will cover it, making the shaving or filing invisible.
If your upper teeth don't rest properly on the lower set, a dentist may recommend shaving teeth for Invisalign to prevent misalignment. Misaligned teeth, like overly long canine teeth, can:
Affect your bite
Jaw muscle pain
Loose teeth and headaches.
Things To Remember When Shaving Teeth For Invisalign
Your orthodontist will need to create additional space if you have crowding that needs correction. Typically, there are three solutions for this issue.
Orthodontic expanders can widen the arch to create space.
With Invisalign, your orthodontist can go for a teeth removal or shaving. Ultimately, the goal is to create sufficient room in your mouth for your teeth to align properly.
Third, tooth extraction, which involves removing permanent teeth. But this should be considered as an extreme solution when necessary. In contrast, teeth shaving involves only a minor amount of enamel removal to achieve the desired space.
How Does Teeth Shaving For Invisalign Work?
Shaving teeth is painless and can be done manually or with a drill. Anesthesia is not usually needed. But mild discomfort may occur due to tugging or vibration from the abrasive surface. Orthodontists often use drills when more enamel needs to be removed. There are generally four steps involved in the process.
Step 1: Choosing the instrument
To shave tiny amounts of enamel, orthodontists use manual diamond-coated abrasive strips or drills for precise control. For larger amounts, a dental drill is preferred. If the tooth is crooked, a wedge or dental clamp creates separation. Here water helps keep the tooth cool and removes excess enamel.
Step 2: Recording the trim
To ensure the gap created is the correct width, your dentist will measure and document it by inserting a small gauge or dental probe between your teeth.
Step 3: Smoothing edges of teeth
Once the shaved teeth looks up to the mark, your orthodontist will use a finer-grit instrument to polish and smooth the raw edges of the tooth.
Step 4: Final touch
After trimming and polishing, your orthodontist will apply fluoride or a similar compound to protect the tooth. This will provide strengthening and remineralizing properties to the tooth surface.
Duration And Frequency Of Teeth Shaving For Invisalign
The duration and frequency of teeth shaving for Invisalign may vary depending on:
– The specific treatment plan
– The amount of enamel that needs removing.
In general, the shaving procedure can be finished in one session that's usually 30 minutes to an hour long.
The frequency of teeth shaving will also depend on the individual case. In some cases, only one or two teeth may need shaving, while in others, several teeth. Additionally, some patients may need to have their teeth shaved multiple times for Invisalign. This is mostly because as teeth gradually shift, calling for more space in mouths.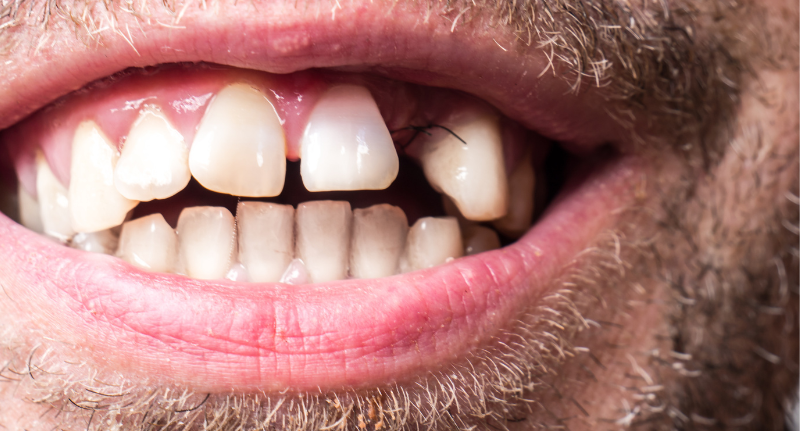 Will The Gaps Be Visible After Shaving Teeth For Invisalign?
Upon completion of teeth shaving, small spaces between your teeth are likely to be visible. Ultimately, that's the desired goal, to remove the crowding. However, these gaps will be small and not as prominent. As treatment progresses and teeth adjust, these gaps will gradually shrink and eventually close completely.
What Are The Risks And Complications Of Teeth Shaving For Invisalign?
Teeth shaving for Invisalign is a seamless process. However, there are a few risks one must keep in mind before diving headlong.
Gum irritation: Dental instrumenting coming into contact with the gum tissue during the teeth-shaving process can cause inflammation or irritation.
Enamel damage: Over-shaving or incorrect technique can lead to enamel damage. It can cause tooth decay and other dental problems.
Weakened teeth: In rare cases, over-shaving of the teeth can weaken them, making them more prone to fracture or breakage.
Bite changes: Overshaving or incorrect technique can also affect the way your teeth fit together, causing changes in your bite.
How To Minimize These Teeth-Shaving Risks?
Here are a few ways to minimize the teeth shaving complications:
Use fluoride-based gels or toothpaste to reduce sensitivity. Your orthodontist may also recommend desensitizing agents to alleviate any discomfort.
Use of a dental dam or guard to prevent contact between the dental instrument and gum tissue.
Only experienced dental professionals should perform teeth shaving. And extreme care should be taken to remove only the necessary amount of enamel. Using magnification and proper lighting can help ensure accuracy.
Do not go for the teeth shaving procedure if your teeth are already weak or damaged.
Teeth shaving should be performed gradually and in small amounts. This will help avoid changes in your bite, monitor your progress, and make any necessary adjustments.
Alternatives to Teeth Shaving for Invisalign
Some of the alternatives to teeth shaving for Invisalign include:
Interdental Reduction (IDR): It involves reducing the width of the tooth at the contact point between teeth rather than shaving the sides of the teeth. It is less invasive than IPR.
Expansion: In some cases, expanding the dental arches can create enough space for teeth to align without the need for teeth shaving.
Attachments: They are tooth-colored shapes made of dental composite material bonded to the teeth using dental adhesive. Orthodontists usually place them on the front and sides of the teeth.
Buttons: Buttons are used in more complex cases. They are small metal or plastic brackets bonded to the teeth. Dentists use buttons with elastic bands or other appliances to move the teeth.
Pros And Cons Of The Teeth Shaving Alternatives
Methods like IDR, extraction, expansion, etc., can solve problems that IPR or teeth shaving cannot solve. They can create enough space for teeth without any invasive procedures. Moreover, these processes can help improve jaw alignments and bites. Alternatives like attachments and buttons are removable once the treatment's over. Leaving no damage or residue on teeth. 
However, all these procedures are time-consuming compared to teeth shaving. Attachments and buttons are visible, while space created by extraction takes a long time to reverse. One of the primary disadvantages includes loss of tooth structure. They can affect the integrity of the dental arch and surrounding teeth.
Conclusion: Final Recommendations When Shaving Teeth For Invisalign
Hope this blog helps you understand:
What are teeth shaving for Invisalign, and why is it vital
How does shaving teeth for Invisalign work?
What are the possible risks associated with teeth shaving
And some alternatives to consider
Although the idea of shaving teeth may seem damaging, the benefits outweigh the minor damage caused during the process. Natural enamel wear caused by food acids and teeth grinding is similar to the wear that occurs during teeth shaving. Crowded teeth or an overbite can cause more frequent contact and enamel loss. This makes teeth shaving a better option for long-term tooth health. Finally, your orthodontist is the only person to determine the specific locations and reasons for shaving teeth.
Learn more about Invisalign in Alexandria, VA
Sources
https://www.healthline.com/health/dental-and-oral-health/teeth-shaving
https://www.realself.com/questions/braces/shave
https://www.wikipedia.org/
Teeth Shaving For Invisalign Treatment – Everything You Need to Know
https://www.dr-braces.com/wp-content/uploads/2023/03/Untitled-design-22.png
431
800
Dr. Afsaneh
https://www.dr-braces.com/wp-content/uploads/2022/12/drbraces_logo-300x138.png
Dr. Afsaneh
2023-03-29 07:47:23
2023-07-12 10:48:46
Teeth Shaving For Invisalign Treatment – Everything You Need to Know