How To Care For Invisalign – A Comprehensive Guide
Are you looking to straighten your teeth but don't like the appearance of metal braces? Look no further. Invisalign is THE system for you. A series of almost-invisible trays will work to give you that stunning smile you have always dreamt of.
For any appliance to work best and last, you must take good care of it. The same goes for Invisalign. Taking care of your aligners doesn't have to be tough. Maintaining your aligners will require you to follow a few simple steps. Let us find out what they are.
Cleaning Your Invisalign Aligners
Just like brushing your teeth is critical to maintaining oral hygiene, cleaning your Invisalign trays is just as important.
Removing The Aligners Before Cleaning
Removing the aligner for the first time may be tricky and painful for some. But it gets easier with time. First, try lifting the tray off your molar teeth on either side. Then slowly start peeling it off towards the front teeth.
Starting from one side of the mouth, you could also work your way around. As you try different methods, you will find one that works best. If your fingers feel slippery against the clear trays, try using a thick paper towel or a surgical glove to maneuver the tray.
Although some clients have had success with a pair of blunt tweezers to remove the trays, it is not recommended. Tweezers and other sharp objects can damage your aligners, and replacement aligners don't come cheap. So, beware!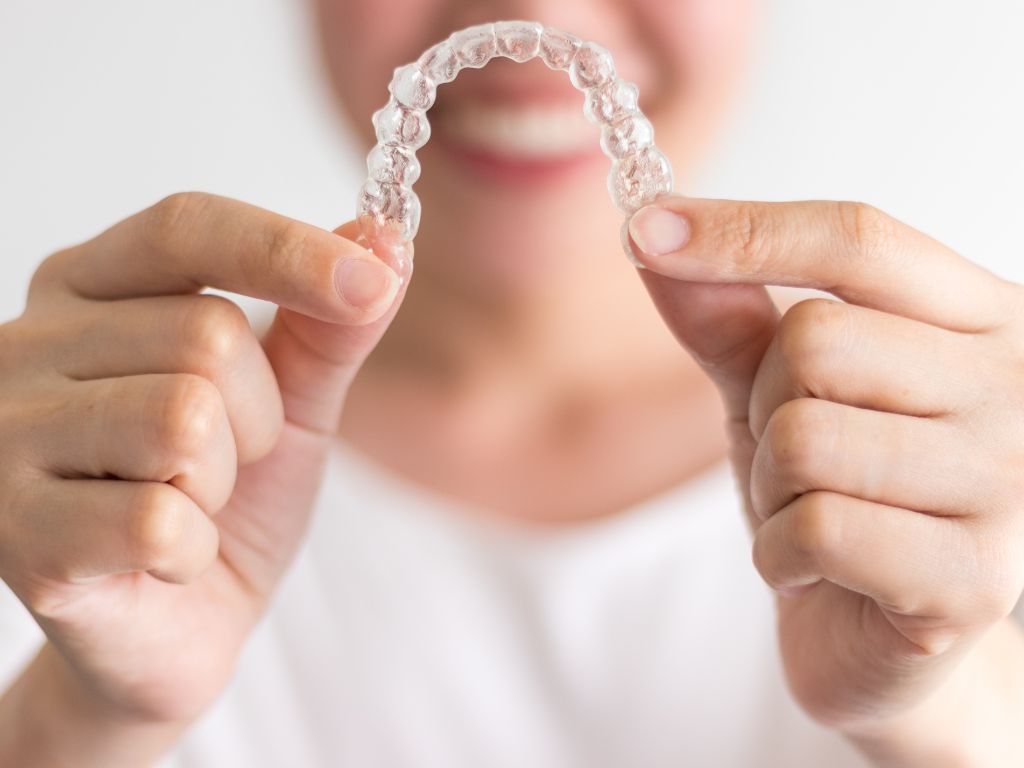 Cleaning The Aligners With Soap and Water
You will need to clean your aligners thoroughly each time you remove them. Simply rinsing them in plain water isn't enough. These devices are prone to bacterial build-up since they come in contact with your teeth. Soaking them in water won't curtail this either.
Instead, use clear soap and plain room-temperature water. Use a soft-bristled toothbrush to scrub your tray gently before rinsing it in water.
You could even use denture cleaners or Invisalign cleaning crystals. Follow the instructions in the pack to form the cleaning solution and soak your tray in them. These cleaners will disinfect your trays and remove odor-causing bacteria.
Avoiding Certain Cleaning Products and Substances
Avoid using harsh cleaning materials like mouthwash to clean Invisalign. They will erode the thermoplastic material of the trays. The ingredients present in these cleaners can be abrasive. Their artificial colors and dyes can stain your clear trays, making them appear dull. It defeats the purpose of wearing clear aligners since they will become visible.
Never use hot water to clean your trays. They will bend and warp them. Cold water isn't good either, as it can cause shrinkage of your aligners. Room-temperature water is ideal.
Storing The Aligners Properly
Keep the aligners in their protective case when not in use. It ensures they are safe and you don't accidentally lose them. Rinse the aligner to remove the saliva or plaque. Pat them dry with a napkin and place them in a safe case.
Follow this even when you are out and about. If you don't have access to a washroom, you could rinse the aligners in a drinking fountain!
Always choose cool and dry places to store your case. Keep the storage case out of the reach of pets and children.
Maintaining Your Invisalign Aligners
Maintenance of your aligners is paramount to completing your orthodontic treatment. Here are a few things to follow consistently:
Wearing The Aligners as Directed By Your Orthodontist
For Invisalign to work effectively, you must wear them between 20-22 hours daily. The purpose of this is to ensure consistent pressure on your teeth. Only then will Invisalign track your teeth in the desired direction.
Another reason to wear it for the prescribed time is to ensure your orthodontic treatment progresses as per schedule. Wearing it for a shorter duration affects the length of your treatment time. You may have to wear Invisalign for much longer than you initially anticipated.
Replacing Lost Or Damaged Aligners Promptly
Orthodontists can replace aligner trays if they break or lose them. Please contact them immediately if this occurs. Your treatment time gets temporarily pushed back if you don't act quickly. To offset this, you could wear your previous set of trays. A good rule of thumb is never to discard your last set of trays. These will serve as a backup in cases of loss or accident.
Getting the next set of trays in the series is your best bet if you are near the scheduled switch. The idea is to ensure your teeth don't shift back.
If your aligner only has a tiny crack, you may continue wearing it till you schedule an appointment. Check with your orthodontist to see if they can repair it. Don't try fixing it by yourself by using adhesives. The toxins in them can be harmful to you.
Scheduling Regular Appointments With Your Orthodontist
It is an equally important step in maintaining your aligners. Orthodontic treatment with Invisalign usually requires visits every four to six weeks. These follow-ups are a great way to monitor your progress and check that your treatment is progressing as planned.
Tips For Making The Most Of Your Invisalign Treatment
Maintain a healthy diet and avoid foods that can damage aligners
Keeping your teeth and aligners clean with regular brushing and flossing
Follow the schedule like clockwork
Take the aligners out only for eating, drinking, or brushing your teeth
Change your aligners in the proper order at the right time
Follow all instructions from your orthodontist
Relax and enjoy the process!
Conclusion
Caring for Invisalign is vital for your oral health. Establish a suitable care routine to get the most out of your treatment plan. Use the tips given here. It might seem like a lot at first, but the extra time and effort you make will be worthwhile.
Always keep your orthodontist in the loop about your progress or lack thereof. It will help them evaluate your case and make necessary tweaks.
Do you have any questions about cleaning your Invisalign braces? Ready for a smile transformation? 🌟 At Dr. Braces in Alexandria, VA we're committed to crafting your perfect smile with personalized orthodontic care. Don't wait—start your journey to confidence today! Contact us to schedule your consultation. Your dream smile is just a call away! 📞
How To Care For Invisalign – A Comprehensive Guide
Sources:
https://www.invisalign.com/
https://www.healthline.com
https://www.dr-braces.com/wp-content/uploads/2023/02/case7.pptx.jpg
768
1024
Dr. Afsaneh
https://www.dr-braces.com/wp-content/uploads/2022/12/drbraces_logo-300x138.png
Dr. Afsaneh
2023-03-16 03:44:36
2023-10-27 03:36:23
How To Care For Invisalign – A Comprehensive Guide